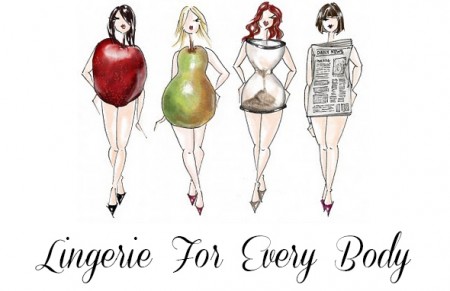 No matter what your body type is, the most important thing to remember is to select lingerie that fits you properly.  Many women have never been fitted for a bra and end up choosing the wrong size.  I'd recommend getting properly fitted by a sales associate at one of the specialty lingerie shops or even one of the major department stores.  This will help to ensure that you select garments that will complement your figure.  No matter your size or shape, you will want to remember the key to choosing the best lingerie is to accentuate your positive and minimize any areas you are not happy with.
The Apple – This body type usually has lean legs, but carries the bulk of the weight through the waist.  Some women with this body type have a larger chest as well.  We will want to draw attention to the legs or up to the face (or both).  A great way to do that is to try a corset with boy shorts.  This will pull in the waist a bit, trimming away inches, while showing off those beautiful legs.  Another option is a sexy slip, camisole, or even a flowing baby doll that gently skims over the tummy.  If you do have a larger bust, be sure to choose a good-fitting bra with an underwire to help give lift and support.
The Pear – This body type usually has a smaller chest and a nicely defined waist, but carries more weight in the thighs and hips.  We will want to draw attention up to the chest and face.  This is a great opportunity to try out lingerie that has a padded bra, or ruffles up top, or perhaps give that lace-trimmed demi-bra a try and I think you'll be pleasantly surprised how much larger your chest will seem.  Keeping the lower half simple and the upper half busy will naturally balance out this body type.  You'll want to avoid baby doll nighties and over-sized sweaters or your man's jersey as these will just add more bulk to your lower half.
The Hourglass – This curvy body type has a smaller, defined waist with hips and chest that are larger and proportionate to each other.  This is a classic female shape so we want to be sure to choose outfits that flatter those curves.  A great way to do that is to choose garments that accentuate the chest and hips, while also keeping the defined waist.  I'd suggest you choose a bra that has extra support and an underwire.  Corsets with boy shorts will also work very well for this shape, as will the high-waisted panties with a full coverage bra.
The Column – This is usually the athletic woman who has narrow shoulders, a small chest, no defined waist and narrow hips.  What we want to do is create some curves!  A great way to do that is to choose garments that accentuate the chest and hips such as a push-up bra and ruffled boy shorts, a bustier with boy shorts, or even a boned corset and panty set.  If you are going to choose a coordinating bra and panty set, you will want to try panties that have a brazillian cut or are high-cut at the thighs in order to reveal more leg.  You'll want to avoid slips and baby dolls as they tend to hide too much and do not create enough curves.
Regardless of your body type, every outfit will benefit from accessories to pull the whole outfit together.  I often recommend thigh high stockings, a killer pair of heels, and jewelry that complements your skin tone.
PS – Special thanks to AIBP for the cute body type artwork above.