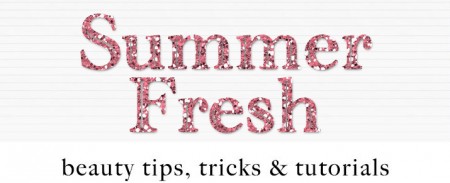 Face masks are a great way to feed your skin healthy antioxidants. After a long day, nothing is better than kicking up my feet and pampering myself with a summer fresh face mask.
Strawberries are in season from late spring to early summer and they make the perfect snack alone or in salads, but they are also a great ingredient to use in face masks, since they're packed with vitamin C. They are also rich in alpha-hydroxy acids which help exfoliate the skin. So fresh strawberry masks are great for people with dull, damaged or acne-prone skin.  We have a small strawberry patch in our backyard which produces about 3 pints of strawberries a week and, often times, the berries never even make it to my kitchen as I snack on them while picking.  Ha ha ha
Anyway, before trying any homemade mask on your face, you should spot test it on your neck or hand to see if your skin reacts. If you're clear, wash your face with your favorite cleanser before applying the mask mix on your face.  Here's how to make the mask.  You'll need:
– 5 fresh strawberries, with stems removed
– 1/2 tablespoon of plain yogurt or heavy cream (yogurt for oily skin, cream for dry skin)
– 2 teaspoons of honey
In a bowl, mash the strawberries with a fork until smooth. Add the honey and yogurt (for oily complexions) or cream (for dry skin) and mix until the ingredients are well-incorporated. Using clean hands, gently apply the mixture all over your face, avoiding the eye area. Sit back and relax with the mask on for 10 to 15 minutes. Wash it away with warm water, pat your face dry and follow up with your favorite toner and moisturizer.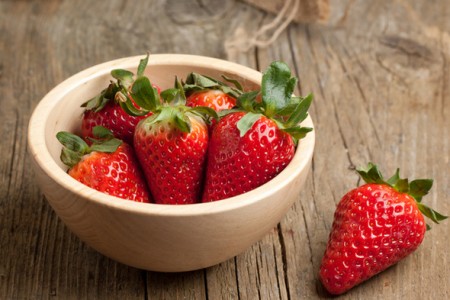 Extra Tidbits:
Facial Scrub.  If you prefer a scrub instead of a mask, you can mash together about a dozen strawberries with 1 teaspoon of pure cane sugar and 1 teaspoon of olive oil.  Scrub gently in a circular motion around your face and neck as a natural exfoliant.  When done, simply rinse off and pat dry.  Your skin will look fresh and glowing.
Reduce puffy eyes.  Slice down strawberries and keep two of the slices on your eyes and relax for 10 minutes.  The same can be done with cucumbers.
Soothing Foot Scrub.  Slough away rough skin on your feet by mashing together 8 strawberries, 2 tablespoons olive oil, and 1 teaspoon of kosher salt.
De-tan your skin.  Strawberries help in lightening pigmentation marks also. For both these purposes just mix lemon juice and strawberries, mash together, and apply for 15 minutes, then wash it off.  Gently massage this "paste" to your feet, allow to sit for a few minutes, then wash off and dry.
Get that natural glow.  Mash together strawberries with cocoa powder and honey to get a bit of a summer glow to your skin.  Simply apply to skin for 15 minutes and then wash it off.