Got a bit behind again in posting my Project 52 images.  Sorry about that.
Week 31's theme was "family".  Once a week, the boys have swim lessons with one hour of free time in between – right at the dinner hour.  So rather than drive all the way back home to pound down a quick meal, we've been going out to dinner in between their lessons.  We've tried out a variety of different restaurants, but of course their favorite is McD's.  Here is our youngest enjoying some lemonade and giving me the look of death…he obviously was not in the mood for pictures that day.  LOL  This was shot with my Droid 2 phone.  I'm still perplexed on how to explain the EXIF data.  All I can tell for certain is that it was ISO 200.  Based on the way the image looks, I'd guess the aperture to be around F11.  I edited this very quickly using Nik Color Efex 4.0 trial and reducing the opacity a smidge.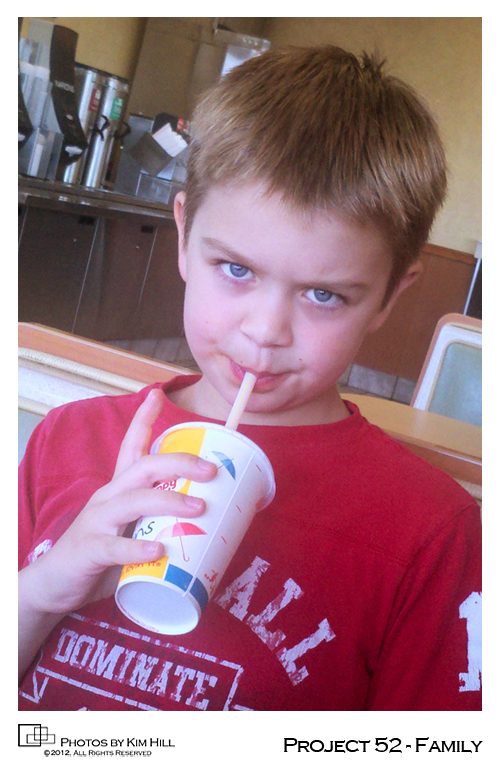 Week 32's theme was "big" and I knew exactly what I wanted to capture for it…the great black wasp.  You're probably shuddering at the thought right?!  Well, to be honest with you, so was I while standing out there trying to snag a shot without getting stung.  I have never seen these wasps before, not until this year when several of them took to our summer sweet bush along the corner of our garage.  These are HUGE – like 2 inches long.  And they flit around so fast that it's really quite a task to try to get a photo.  This is the best of the bunch…and even this is not perfectly sharp in focus.  I do want to point out that it's pretty cool that I was able to capture his "tongue"…none of the other shots had that.  For those interested in settings, I shot this with my Canon 70-200L handheld (first mistake) at ISO 50, F 2.8 at 1/400.  Next time, I'll need to shoot at a higher F-stop to have a better chance at nailing focus.  Since the blossoms are now gone, I'll have to just wait til next summer.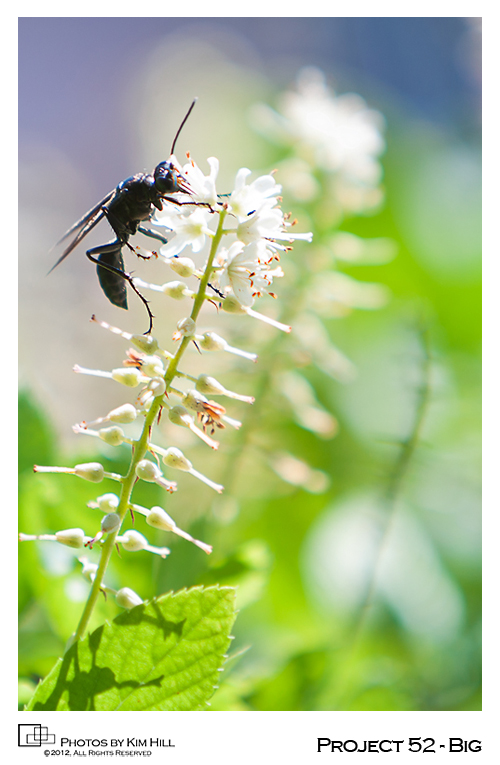 Are you doing your own Project 52 or Project 365/66?  If so, please post a link to your images in the comments below.   🙂