All too often, I hear people say they are afraid to "go big" with their wall portraits.  "I'll just take an 8×10" or "11×14 is huge", are common statements made when we are discussing what size to choose for their walls.  Print sizes starting at 11×14 are actually the traditional wall portrait sizes.  Anything smaller would be a desk print.  Unless you are creating a wall cluster of several images, I really do believe that one large focal piece is sure to add that WOW factor to your home or office decor.  This could be a spot over your fireplace mantle, over your bed, or even the traditional spot over the couch in your living room.  Here are some image samples to show you the difference between the various sizes: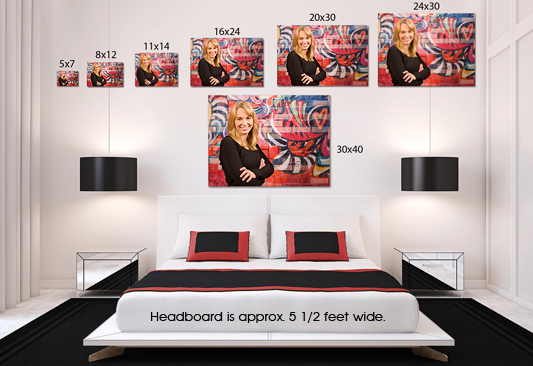 So how do we determine what size is best for your space?  I recommend measuring the furniture piece that sits along the wall you want to hang the portrait.  Then divide that number in 1/2 (or up to 2/3) to determine the width of your portrait.  In the example below, the couch measures about 6 feet across.  Half of that would be 36 inches.  So you could hang a portrait vertically that is 36 inches wide by 54 inches tall here, as I've shown, or you could hang a portrait horizontally that is 36 inches wide by 24 inches tall.  If you wanted to hang a grouping of images together, then I would recommend making them smaller so that the total width of all portraits together is 36 to 44 inches across.
With this same room shown below, you can see that hanging an 11×14 is much too small.  The wall dwarfs the portrait, making it seem even smaller than it already is.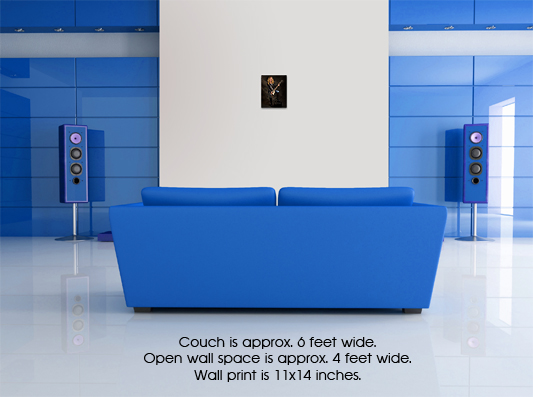 I'd also suggest hanging the portrait so that the center of the image is about 5 1/2 feet up from the floor as this is a comfortable viewing level for most people. The only time I think I'd recommend differently is if the furniture or fireplace mantle height is at 5 1/2 feet already.  In those cases, place the bottom edge of the portrait about 3 to 5 inches above that.
Still unsure what would work best in your home?  No problem!  I offer in-home service and will measure the space for you, make suggestions on which portraits from your session suit the space best, and will gladly create wall grouping designs should you decide you want to showcase several images together.  Contact me to set up your appointment today.