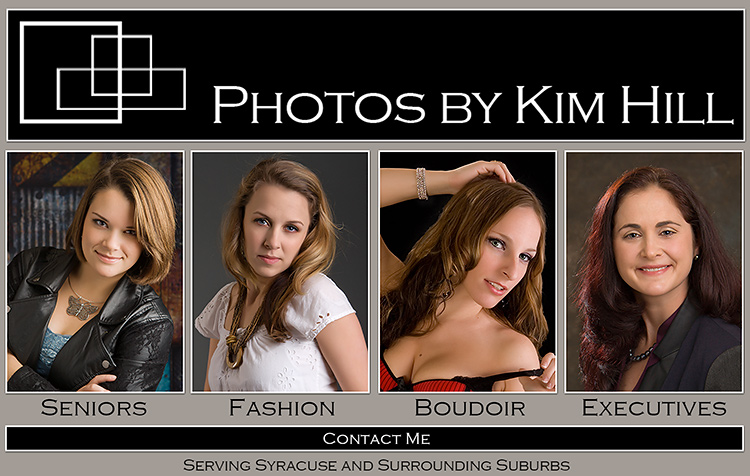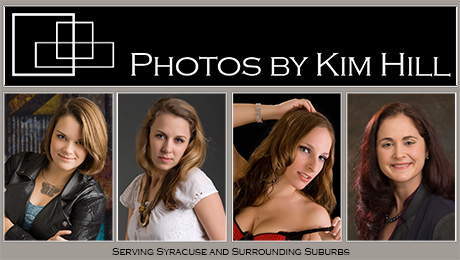 Welcome to Photos By Kim Hill - Professional Portrait Photographer
Serving Syracuse and Central New York
Syracuse, NY photographer, Kim Hill, has been a photographer for more than 20 years photographing teens, couples, maternity, business executives, sports teams and events, entertainers and boudoir portraits in the Syracuse, New York and Cicero, New York area (including most Central New York suburbs). Her specialty is senior portraits and boudoir portraits. She offers both color and black and white portraits, albums, fine art canvases, custom-designed memory books, storyboards, and greeting cards. Digital images on disc are also available.
Photos by Kim Hill offers payment plans for all portrait sessions.


High School Senior Portraits for the Central New York region
It's your senior year and you've finally made it!! Congratulations!!! Kim Hill's goal is to give you a unique senior portrait experience by taking you on location to some of your favorite hang-outs as well as capturing the traditional yearbook portrait. Kim strives to capture the real you as you are right now. She strives to show your personality, style and uniqueness through your senior portrait experience. High school will come and go, but your senior portraits and the memory of your senior portrait session will last a lifetime.
Business Executives and Entertainment Portraits
Your head shot is often the first introduction to potential customers. Make that impression count
with a professional image created by portrait photographer, Kim Hill. Images are fully retouched
and a simple flat rate includes your high resolution digital image so that you can use it in all of your business and marketing materials.
Syracuse & Cicero, New York Boudoir Portrait Photographer
Cicero, New York photographer, Kim Hill, also offers intimate portraiture for women which focuses on the female form, highlighting the best features to create beautiful images for you to share with your lover. Women of all ages and sizes can feel attractive and sexy, and a private boudoir portrait session will help give your confidence a boost. Kim is known for her patience and ability to capture the individual beauty of each woman she photographs.

Maternity Photography
Kim Hill also enjoys capturing those last moments of pregnancy with her maternity portraits. She believes that every pregnant woman is beautiful and strives to show that through her portraits. She enjoys capturing the last moments of just husband and wife, and their loving relationship prior to the baby's birth.
Why Choose Photos by Kim Hill?
You deserve a personal and professional photographer that will take the time to listen to your needs and wants. Kim loves what she does and takes pride in her work. Kim Hill's studio offers no waiting in line and no rushing to get you out the door. You want someone who can offer you complete privacy and 100% of their attention during your portrait session, which is exactly what you will get with Kim. Her well-rounded studio provides you with custom, high-quality products such as mounted portraits, albums, memory books, fine art canvas, story boards, greeting cards, acrylic wall art, and some other more unique specialty products.
Kim Hill is one of Cicero, New York's most requested portrait photographers. Her patience and knowledge exceeds her clients' expectations and keeps them coming back for years to come. Your session with Kim will be a comfortable and relaxed portrait experience.
Email Kim Hill
Not in my area? Click here to view a list of fabulous photographers from all over the world!
http://feedvalidator.org/check.cgi?url=http%3A//photosbykimhill.com/blog/feed/


Blog  |  Tweet  |  Google  |  Privacy Statement  |  Terms Of Use

All images contained within this site and within galleries are © copyright 1998-2018, Photos by Kim Hill, all rights reserved.

Duplication, in whole or in part, of any material within including text, images, layouts and design is strictly prohibited and violates copyright which is punishable by law.